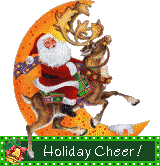 I have to be carefull here or I loose my post. Geesh. I've been sick for a couple days. Got to work yesterday and I could barely do my job. So around 8:30 a.m. I decided to go home. Slept most of the day and got really sick in the afternoon. Today I stayed home as well. Still not feeling well at all.
I need to get more shopping done and I hope that by tomorrow I'll feel good enough to go. I just don't have any energy or strength. Strange.
It is snowing outside and has been doing so for a couple days. I love looking at the snow. Love watching it fall.